Power Brokers Inc. Buyers
Welcome buyers...we're glad you're here!
---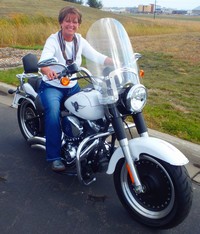 Sean: I've been a Power Brokers customer since 2003. My wife and I have bought and sold here and it has always been a great experience. I bought my latest bike new but Power Brokers Inc. still played a role buy selling my other bike and getting me substantially more than I was offered in trade.

Carolyn: I had just taken the Rider Safety Course and (of course) we came to Power Brokers Inc. to look. The folks here helped me buy a bike... they didn't try to sell me one. I started on a 250 Honda Rebel and as I got more comfortable I sold that one through Power Brokers and bought another one. It's a fun shopping environment. We never consider going anywhere else.
Purchaser: Sean and Carolyn Thurman
"We looked all over..Craig's List and other dealers nobody had a pair this nice!" "We couldn't be happier with the service or the machines..they took pictures and e-mailed them to us, shot us straight on the price and had them ready to go when we came to pick them up." "Great experience".
Purchaser: Chris and Larissa Hillmer
Fairmont, MN
Why should you choose Power Brokers Inc. for your next powersports purchase?
#1-Experience: Nobody in the region sells more used machines than us...that says a lot. With over 50 years of combined experience on the showroom floor our staff knows the machines and the values... get to know them and you'll have an inside line to a good buy.
#2-Selection: To sell a lot of machines you have to have a lot of machines... it just makes sense. With close to 150 machines in stock all the time and access to many more from private parties and dealers we will have or can get what you're looking for.
#3-Simplicity: From your first look at the machine on powerbrokersinc.com to your first contact with our staff, the purchase, the paperwork and on-site financing we make it all easy. You have a few choices: you can chase around off Craig's List ads, you can spend the better share of a day in an office getting pitched warranties, service contracts etc...at some dealerships or you can join the thousands who have already found "a better way to buy... a better way to sell".
#4-Trust: We've built a reputation over the years for honesty, fairness and great customer service... that is no easy task these days. As our mission statement says: "Our mission is to help our customers, buyers and sellers, to make informed decisions on the sale or purchase of a powersports product. We strive for fair and just compensation in all transactions while doing our best to treat each and every customer with the same kindness and respect with which we expect to be treated".
We hope you'll visit the site and the store often...we'd like to make you a friend and a customer sometime soon.